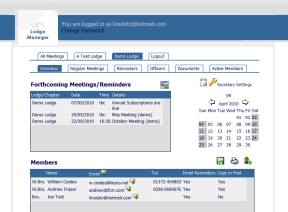 Lodge Manager is an online tool that will both help organise masonic lodge meetings as well as make the job of the lodge secretary easier. For the secretary, it allows him to maintain the lodge membership information. It enables him to keep information such addresses, offices held, appointments and honours received. It also enables him to send out lodge material in an easy way and at the same time remind members of their up and coming meetings.
For the individual, Lodge Manager allows them to see all the lodge meetings at a glance. If they are a member of more than one lodge or chapter, they will see the meetings of both organisations when they login.
It is recognised that not all members have access to computers on a regular basis so when a reminder is sent out to members, the lodge secretary is also reminded which people he needs to send the information to by post.
There are 2 core parts to what lodge manager can do. Primarily it can hold lodge member information. Secondly however, it allows the secretary to lay out the meeting schedule for the year and attach electronic versions of the summonses, minutes and any other lodge documentation. All the documents can be stored in a central location so that members have access to them at any time. The aim of Lodge Manager is to make the Lodge Secretary's life easier.
In summary, the features are:
Enable the lodge secretary to store member information in a secure area.
Assist the secretary in keeping a record of offices held in the lodge
Keep a record of meeting attendees as well as who is dining
Keep a record of members guests attending and dining
Print off attendance form for the evening to keep track of dining payments
Provide secure access to all your lodge documents in one place.
Allow you to receive reminders for forthcoming meetings (this can be switched off).
View your meetings at an easy glance for more than one lodge (if all lodges use lodge manager).
There is a free 4 month trial of this tool with no obligation to purchase at the end of the trial.